The Liberty16 App has a new security feature!
As a part of the new firmware version 1.7.4, the Liberty16 app will now contain a new feature using Bluetooth encryption. This ensures that the connection between your Liberty16 app and device is kept secure. As a part of this new feature, you will now need to use a pin to connect your Liberty16 device to the app via Bluetooth.
Here is an overview of how the encryption feature can be installed:
Make sure the Liberty16 device and the Bluetooth on your iPhone/iPad is turned on
Open the Liberty16 app
The Liberty16 app will automatically ask you to upgrade to version 1.7.4 if you have not done so already.
You will first be given the option of backing up your data. Note: Updating the firmware does NOT delete protocols or past runs. This is simply for added safety. If you'd like to back up your run data before updating the firmware, select "Back Up My Data". You will be taken to the Runs screen. Swipe right to left on any run and email it or upload it to iCloud. Repeat for all runs you wish to save
Once you have backed up all desired runs, return to the homepage and the same dialog box will pop up. Click "Update my firmware". This will take a few minutes.
When the download is complete, the firmware will be installed. Shut down the Liberty16 device, close the app and forget the device under the iPhone/iPad Settings, Bluetooth.
Restart the Liberty16 device then re-open the Liberty16 app.
Once the device is detected, a dialog pop-up will appear on the main screen asking for a pin before pairing (Figure 1).
Use the last SIX digits of the serial number as the pin number
The serial number is a nine-digit number that can be found on the white sticker on the bottom of the Liberty16 device and/or on the bottom of the box the device came in.
If you have an older device that does not have a serial number, just press "Pair" without inputting any pin number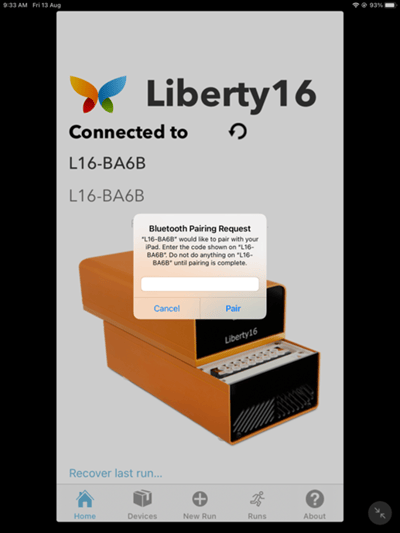 Figure 1: Bluetooth paring request
You are all good to go!
For more information about the encryption feature or if you are having trouble updating to the new version, please reach out to us using the Technical Support form.